Polypropylene Caps with PE-foam Liners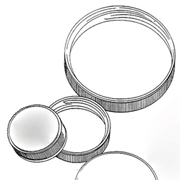 Industrial Glassware offers white polypropylene foam-lined caps in a variety of sizes.  The liner is comprised of a foamed polyethylene core sandwiched between two layers of polyethylene film.
For your convenience, most of these caps are sold individually. Case quantities are listed for those wishing to purchase in full-case quantities.  
Foam-lined White Polypropylene Caps

| Cap Size | Case Quantity | Item Number |
| --- | --- | --- |
| 100-400 | 256 | #C100-400IPE-W |
| 89-400 | 648 | #C89-400IPE-W |
| 70-400 | 760 | #C70-400IPE-W |
| 58-400 | 1100 | #C58-400IPE-W |
| 53-400 | 2000 | #C53-400IPE-W |
| 45-400 | 1750 | #C45-400IPE-W |
| 38-439 | 1200 | #C38-439IF422-W |
| 38-400 | 2250 | #C38-400IPE-W |
| 33-400 | 4000 | #C33-400IPE-W |
| 28-410 | 3100 | #C28-410IF422-W |
| 24-400 | 6500 | #C24-400IPE-W |
| 24-410 | 4300 | #C24-410IPE-W |